Contributed by Bethsaida Nieves
On September 14, 2022, esteemed professor, Suzanne Oboler, visited LLAS 1000-001 Introduction to Latina/o Studies. Welcomed by a curious group of about 50 undergraduate students, Professor Oboler opened her lecture with a boisterous greeting and invitation to critically think about the ethnic label, "Hispanic." Drawing from her recently published book chapter, "Disposable Strangers: Mexican Americans, Latinxs, and the Ethnic Label 'Hispanic' in the Twenty-First Century," Professor Oboler engaged students in a discussion about the intersectionalities of race, citizenship, and belonging by focusing on both the theoretical concepts within her research and the lived experiences of the students. She walked students through the creation of the term "Hispanic" in 1977 by the United States Office of Budget and Management, and the ensuing homogenization and racialization of Latinx communities; to the present day linguistic formation of a new label "Mexican," which is being used beyond nationality to define Latinx individuals as "foreign" and "illegal." Through her discussion of the socially constructed stranger, Professor Oboler masterfully explained the historical genealogy of labels that have transmogrified Latinx individuals from citizens to foreigners. Her final call to students was to engage, organize, and contest all dehumanizing labels and categories, and to be the ones that write and define their own histories and identities.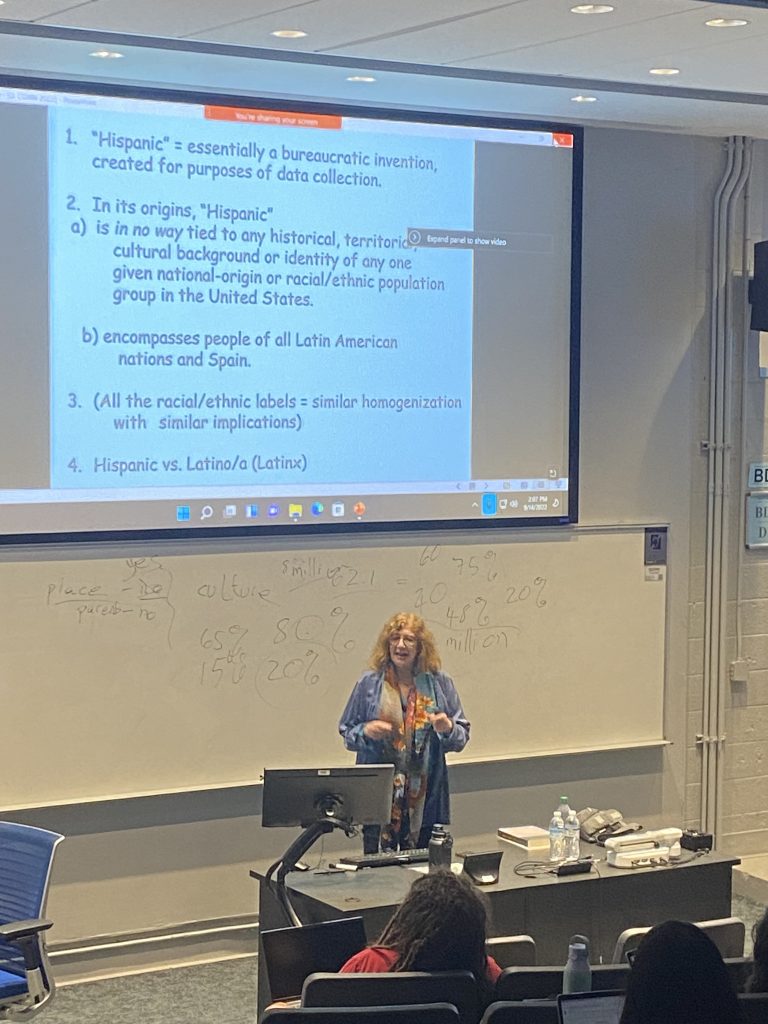 Bio: Suzanne Oboler is currently a Professor at John Jay College of Criminal Justice in New York, New York where she teaches courses in Latin American and Latinx Studies. In 2011, the Pontifical Catholic University of Rio de Janeiro honored Professor Oboler with the title of Fulbright Distinguished Chair in American Studies. Throughout her career, Professor Oboler has been at the forefront of innovative and groundbreaking scholarship in the areas of human rights, race, immigration, and citizenship. Among her numerous academic accomplishments, Professor Oboler was the founding editor for Latino Studies from 2002-2012, and has served in various editorial roles for seminal works in Latin American and Latinx Studies including, Latinos and Citizenship: The Dilemma of Belonging
(2006), the Oxford Encyclopedia of Latinos and Latinas in Contemporary Politics, Law and Social Movements (2 Volumes; 2015), and Neither Enemies nor Friends: Latinos, Blacks, Afro-Latinos (2005), and many more noteworthy publications. One of her most famous and groundbreaking scholarly publications is, Ethnic Labels, Latino Lives: Identity and the Politics of (Re)Presentation in the United States (1995), which received high praise from several notable historians, including Professor Evelyn Hu-DeHart of Brown University, and Professor Emeritus Ramón A. Gutiérrez of the University of Chicago.
---