Homer Babbidge Library
Homer Babbidge Library, with total holdings of over 3,2000,000 volumes and 190,000 scholarly journals, has a well-balanced collection for the study of Latina/o, Caribbean, and Latin American Studies. The library acquires materials from Mexico, Central America, the Caribbean, and South America in languages including English, Spanish, Guaraní, Quechua, K'iche', Haitian Creole, French, and Portuguese. It also acquires films and documentaries that explore socioeconomic, cultural, and political themes in Latin America and the Caribbean. This collection is complimented by the Human Rights films collection also housed at the library. The library has facilities for viewing VHS and foreign films DVDs (Multi-Region DVD players). The Latina/o, Caribbean, and Latin American Studies Subject Guide includes descriptions and links to resources and relevant databases.
Jennifer Schaefer is the Research Services Librarian for Latina/o, Caribbean, & Latin American Studies and Spanish Studies. She is available for research consultations and instruction assistance and can facilitate library purchases of new materials.
The Dodd Center for Human Rights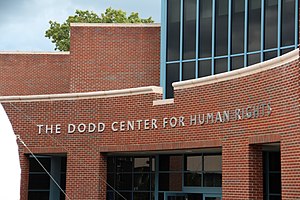 Archives and Special Collections at the Dodd Center for Human Rights (formerly the Thomas J. Dodd Research Center) is the University's repository of original source materials for research in the humanities and social sciences. The Archives houses internationally-significant collections of rare books, personal papers and periodicals from Latin America, the Caribbean and Spain. Politics, commerce, social life, and other Latin American and Caribbean affairs of the 19th and 20th centuries are covered in over 2000 titles of the Latin American Newspapers Collection. Of special note are the Medina and Puerto Rican Collections, and a rich collection of Mexican pamphlets and broadsides. The approximately 2700 volumes of the Chile Collection reflect the history and politics of Chile from the 16th century through 1940 with particular strength in the period from 1810 to 1940. The Human Rights Collections at the Dodd Center include the Human Rights Internet Publications Library, which includes pamphlets and reports from around the world, in French, Spanish, German, and other languages.
Consortium
The library is member of LARRP, a consortium of research libraries that seeks to increase free and open access to information in support of learning and scholarship in Latin American Studies and LAMP (formerly known as the Latin American Microform Project) who acquires, preserves, and maintains microform collections of unique, rare, and bulky or voluminous Latin American research materials for its subscribers. LARRP and LAMP are part of the Center of Research Libraries (CRL). Because UConn is a member institution, you can request materials (such as microfilms or books) for your research.
For more information about lending practices at CRL, visit http://www.crl.edu/services/borrowing/member-lending and http://www.crl.edu/services/borrowing/loan-policies
To search the CRL catalog, visit, http://catalog.crl.edu/.