Contributed by Katerina Gonzalez Seligmann and Anne Gebelein. 
Congratulations to Heidi Pineda, senior in Latino & Latin American Studies, who has won the Outstanding Senior Women Academic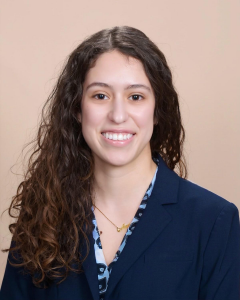 Achievement Award. The dean's office let us know that competition for this honor was exceptionally high, as they received nominations from across all 38 units in the College of Liberal Arts and Sciences (CLAS).
Heidi is honored because she has demonstrated exceptionally high achievement in her coursework, research, and leadership in service to the University. Throughout her time at UConn, in addition to regularly excelling in her work in both LLAS and Political Science, Heidi has been a fierce advocate in research and service to increase Latinx student academic achievement and access to professional development. Heidi has been researching higher education practices to serve Latinx students and working with UConn's Center for Career Development to develop the affinity community outreach program. She has piloted a new liaison position to facilitate career development between El Instituto, PRLACC, and La Comunidad Intelectual (LCI).
Heidi has presented her research on promoting cultural awareness for increasing the desire and motivation ("ganas" in Spanish) of academic achievement for students of Latin American descent in the U.S. academy at two conferences: Conference in Higher Education Pedagogy and NESPA. The eight different projects she has created through her work in academic affairs, combined with her leadership as president of Distinguished and Motivated Academic Scholars (DAMAS), are impressive. Here's a highlight shortlist: Latinx Career Empowerment Collective, Careers for the Common Good: Giving Back to the Latinx Community, Latinx Networking Nights, Poderosas: Latina Empowerment Career Panel, and DE&I Career Ambassador Intern Orientation Training. She has also been dedicated to promoting the LLAS major, serving as a representative in The Major Experience, and volunteering to present, every semester, an undergrad's perspective on the major to LLAS 1000-level classes.
Heidi's senior thesis is a two-semester project examining HSIs who have been granted government funding regarding their interpretation of the funding's mandate to serve Latino students in culturally appropriate ways. It is a fascinating project with value for UConn itself, as Stamford and Waterbury campuses begin to lean into their new HSI status. It is no surprise to us that she was chosen by all 5 top graduate programs in Higher Education research she applied to and will be attending Michigan State University in the fall to earn her master's degree. We wish her the best of luck at her new university!