Contributed by Katerina Gonzalez Seligmann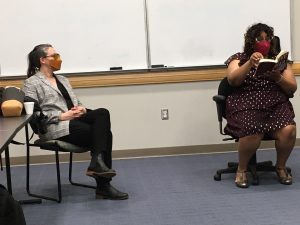 On Friday, April 22nd, El Instituto had the pleasure of hosting award-winning fiction writer and author of the short story collection Love War Stories, Ivelisse Rodriguez. Rodriguez is from Puerto Rico and grew up in nearby Holyoke, MA. She visited my LLAS/SPAN 1009 "Introduction to Latino Literature, Culture, and Society" class to answer our questions about her short stories that we read for class. Rodriguez also met with my students from the fall 2021 LLAS 3230 /WGSS 3258 "Latina Narrative" course where we also read the Love War Stories collection for coffee at the Benton Museum café, and she discussed her research for her historical novel in progress with Prof. Guillermo Irizarry and me over lunch. The visit culminated with a reading co-sponsored with the UConn Humanities Institute, the Literatures, Cultures, and Languages Department, the Africana Studies Institute, and the Women, Gender, and Sexuality Studies Program.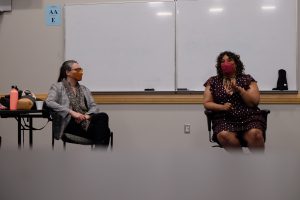 The reading was attended by undergraduate students, graduate students, faculty, and staff. She read from one of the highlight stories of the collection, "Holyoke, MA: An Ethnography," a story that responds critically to an ethnographic photography project of the Puerto Rican community of Holyoke by taking a close look at the life of a popular high schooler named Veronica alongside a history of the city in which she resides. After the reading, we were all so eager to talk to Ivelisse Rodriguez about her work that we kept talking with her for informally for over an hour. Many members of our community were inspired by the opportunity to hear from her, to connect with her, and to hear her read her work. It was a very special day for El Instituto and for UConn.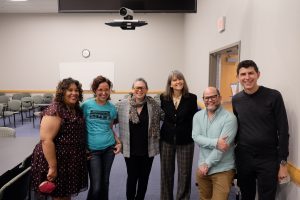 ---