Contributed by Samuel Martínez
Episode 4 of the WHUS podcast series, "Talking Across Activisms," featured a conversation among Gabriela Ramos-King, Lizzette Pérez, María Mejía-Girón, and Yadiel Rodríguez, all former students in UConn's Latin American and Latino/a Studies program, about their work helping the creation and implementation of a Latinx Studies 12th grade history curriculum for Connecticut's public high schools. As part of their work for the Latinx/Latin American Studies major core course (LLAS 2012) Writing for the Community, Latinx Studies majors at UConn helped to design a syllabus for this course in the Spring of 2020. In this episode, the students discuss the work that went into the project and their ongoing contributions to the fight for representation and justice in our state's public school system.
Talking Across Activisms is a podcast about activism in Connecticut and beyond. Talking Across Activisms aims to provide a platform for grassroots and radical organizers to share their perspectives on justice and liberation.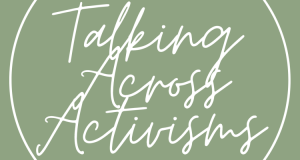 ---