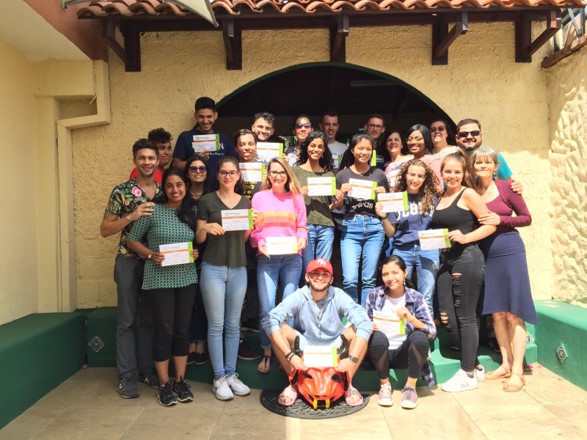 By Anne Gebelein
Sixteen students recently returned from 3 weeks in Costa Rica where they had an intensive, 6-credit experience studying human rights in Central America. Students had the opportunity to meet with experts to discuss migration, refugees, gender relations, and interpersonal and state violence. They visited the Interamerican Court of Human Rights, a community of Nicaraguan migrants, a women's indigenous pottery collaborative and a rainforest, while learning on 2 different campuses hosted by language institute Intercultura.
Students spent time in intensive Spanish courses according to their level of fluency led by faculty at Intercultura, and took a course with Prof Gebelein titled "Human Rights, National Identity and the Arts". The class considers intersections of national, cultural and ethnic identities in the region; how rights are accorded relative to a group's position in the national imaginary; and how the arts promote reflection and action on urgent human rights issues in Central America.
In addition to their coursework, students had the opportunity to learn from a leading playwright in Central America, Ailyn Morera, known for her groundbreaking work in exposing domestic violence, systemic discrimination against women, and the darker side of motherhood. Students participated in theatrical exercises with Morera that considered gender dynamics and personal identity. Morera also invited students to consider her collaboration with 2 other UNESCO representatives, Marianne Lizana and Rodrigo Jimenez: a radio and video series that offers healthy modeling of masculine roles titled "Métele un Gol al Machismo".
Morera was a visiting artist-in-residence at UConn for 8 weeks in 2011, and collaborated with the Dept of Dramatic Arts, El Instituto, the School of Social Work, and Literatures, Cultures and Languages. Conversations during that time led to the development of the Education Abroad program that just completed its 7th successful trip. Susan Randolph of Economics and Anne Gebelein designed the course in collaboration with Morera, who also coordinates unique tours and lectures depending on the faculty teaching in any given year and the course focus.
Student evaluations of the 2020 trip highlighted a series of transformative experiences, including the trip's impact on student's view of Latin America and the U.S.'s place in the world; the opportunity to learn about theater from an eminent Costa Rican playwright; an understanding of indigenous issues in Costa Rica and how these lessons can be applied elsewhere in the world; the quality of relationships built between fellow UConn students, faculty, and Costa Ricans, and the ability to immerse oneself in another culture and learn from host families. Consider the following student testimony:
1. "I had the opportunity to step outside of my comfort zone and explore a part of the world I probably would have never had the opportunity to be in."
2. "I got a better sense of cultural relativism and got more in touch with my Latinidad."
3. "Living with my homestay family gave me the chance to let go of my insecurities and practice my Spanish outside the classroom." -Claudia
4. "This program challenged my definition and interpretation of poverty. I got to finally understand the drastic difference between 1st world poverty, and poverty within a developing country." -Jase
5. "Being immersed into the Costa Rican culture has given me the opportunity to improve myself and broaden my horizons. Not only was I able to improve and become conversant in Spanish, but I was able to challenge myself and overcome those challenges. The experience gave me the opportunity to try new foods, experience infrastructure (or the lack of), gauge different social norms, and understand social structures in terms of race, sex, and sexuality. And the view was always amazing." -Desira
6. "Through this trip I got to learn about the history of Costa Rica in the classroom, then go home to my Costa Rican family and learn history from the local perspective. I saw how regional and individual identities affected people's sense of nationality and their political views. Young vs old; mountains vs beach; rural vs urban; woman vs man. An experience I'd never get if I'd learned about Costa Rica in the states.
This experience was a rare chance for a bunch of students from different disciplines to come together and share an experience of a lifetime. We each brought different insights to conversations about culture, nationality, and art which created profound conclusions about both Costa Rican and American society." -Claudia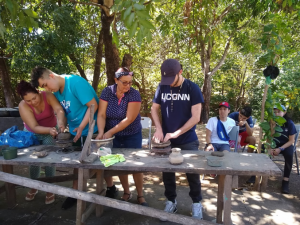 7. "Following the completion of my study abroad, my life has changed. This experience provided my life with so much clarity and the formation of new perspectives of life, liberty, and freedom. I dove deeper into myself through an intense spiritual journey of disconnectedness to mindfulness, reflected on the continual development of myself and my Latinidad; and how these experiences unfolded within Costa Rica and extend to the United States." -Jase
The program will be offered again in the 2020-21 winter session, led by Professor Samuel Martinez. It is one of several ways in which El Instituto and its faculty are committed to life-transformative education.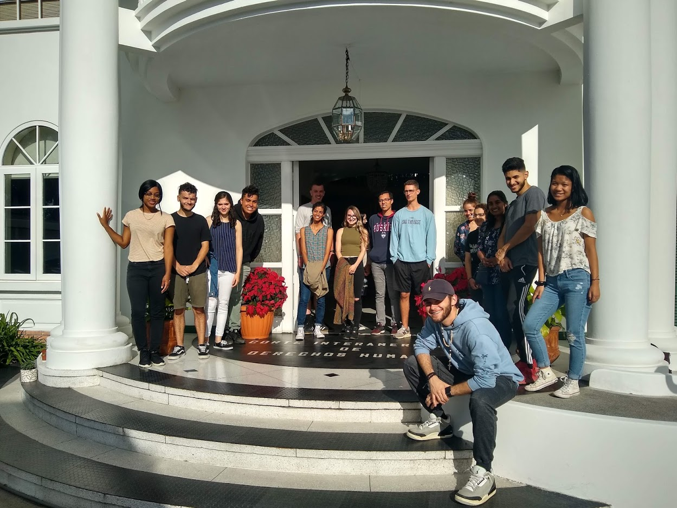 ---