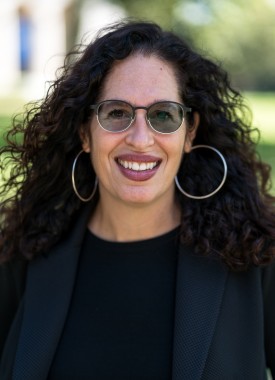 Each year, the Latinos in Education Foco invites a speaker for a plática with students, faculty and staff at the university. El Foco is a research community within El Instituto that provides opportunities for mentorship, networking and professional development for junior tenure-track faculty.  This year's guest of honor was Professor Gilda Ochoa.
Ochoa is a distinguished professor of  Chicana/o – Latina/o Studies at Pomona College in Claremont California. She has been teaching at the college since 1997, when she earned he Ph.D. in sociology from UCLA two decades ago. In the past two decades she has become a prominent figure in the study of Latinos in U.S. education. Her most recent book, Academic Profiling : Latinos, Asian Americans, and the Achievement Gap  was named one of the Huffington Post's "35 books that all educators of African American and Latino students must read".
On April 18th, Professor Ochoa sat with members of the UConn community to discuss the importance of establishing classroom environments that best foster student involvement and learning. Rather than lecture about her work on reclaiming the voices of students whose voices are often silenced in a classroom context, she turned the community space of The Puerto Rican Latin American Cultural Center into a classroom in which she aimed to both teach and learn from those in the room.
Professor Ochoa placed great emphasis on the importance of students and teachers truly getting to know each other in order to create a welcoming and supportive class environment. In order to show the strength of establishing relationships in classrooms, she had everyone in the room turn to neighbor and introduce themselves. She then urged everyone to talk about which of the terms: power, privilege or silence characterized their own educational experiences.
She believes that truly getting to  know each other involves facing issues of power, privilege, and silence head on. Though this may be challenging in some contexts, she recommends doing s
o in order to ensure that all members of the classroom community have equal opportunity to speak and create an environment in which no one is silenced.
In addition to encouraging everyone in the room to work toward making classroom environments safe supportive spaces for everyone, Ochoa urged teaching and other university staff in the room to not be silent about causes they believe in. All of her work, and this event are testaments to the need for people and universities to speak out against the many injustices minoritized populations face in this country and the world.
Contributed by Victoria Almodovar
---