Contributed by Felix Padilla-Carbonell
The Puerto Rican Studies Association (PRSA) met at Rutgers University for its 13 th biennial
conference, 25-28 October 2018. This was the first PRSA conference to meet since Hurricane
María devastated the island. The conference theme was "Navigating Insecurity: Crisis, Power,
and Protest in Puerto Rican Communities." Attendance, of academics, scholars, and activists,
from the island as well as the mainland, was the largest ever for a PRSA conference. Among
many outstanding panels, conference highlights included the pre-conference graduate student
mentoring workshop and the opening plenary, "Anthropological Perspectives on Colonialism,
Economic Crisis, and Disaster in Puerto Rico." A public panel, "The Myth of Freely Chosen
Status: What the Historical Record Shows about Government Persecution of Puerto Rico's
Independence Movement," was moderated by Democracy Now! journalist and Rutgers professor,
Juan González, and featured former political prisoner Oscar López Rivera as one of its panelists.
A grassroots activists' roundtable hosted community organizers from around the island, who led
the hurricane relief and recovery effort and stayed on to help meet people's chronic needs. El
Instituto is the home of the PRSA Secretariat and we proudly recognize the outstanding work of
our core faculty member, Charles Robert Venator-Santiago, in leading the organization of the
event.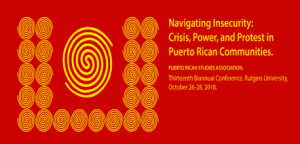 ---